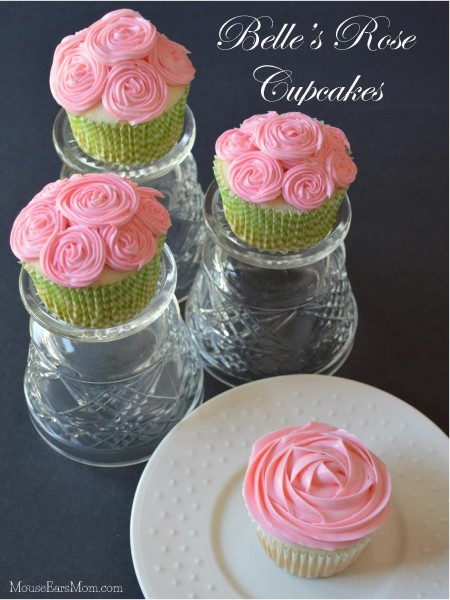 Did you know that one cupcake with a rosette style swirl on top costs $3 at the grocery store?
Some hard-core party planning is going on in my house this week.  My daughter Victoria will be 3 years old on June 12th and she's been requesting a Princess Belle (Beauty and the Beast) birthday party since January.  Yes, for six months she's been telling the world that she's going to have a Belle party.  I have to give her props.  The girl knows what she wants.  So here we are less than two weeks away from the big Belle party day and I'm ashamed to say I'm running around trying to put together a Belle party.
First on the list of things to do is to purchase or make the cake and cupcakes.   Traditionally, I use a small vanilla cake for her birthday photo and song and also chocolate cupcakes themed to compliment the cake.  It makes handing out cake much easier when you can have a helper pass out the cupcakes while you're slicing the cake.  This year when searching for a Belle-inspired cake and cupcakes in our local grocery store, I came across a pretty cupcake with a single rose on top. It was absolutely beautiful.  However, each rose cupcake was $3.00!  I don't know about you, but $72 for 24 cupcakes is a bit out of my price range for a birthday party.  I left the store on a mission to try my hand a making a rose cupcake for my little princess.
After a few Google searches, I stumbled upon the blog, Simply Sweets by honeybee http://www.simplysweetsbyhoneybee.com/. OH MY GOODNESS, I instantly fell in love with Melissa's blog.  She's so incredibly talented and her tutorials are fantastic.  Within one of her posts she shared three flower-making tutorials to use on cupcakes, a Rose Swirl, Rosettes, and a Frilly Flower.  She made it seem so easy to make her beautiful cupcakes that I thought I'd give it a try.
Here's my attempt at the Rose Swirl.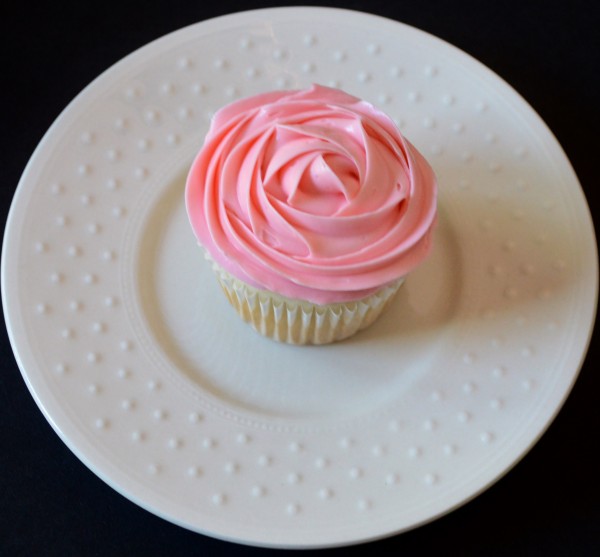 I used store-bought icing, so the consistently is different. In addition, I didn't have the same tips that Melissa used for these projects, but I tried the concepts anyway.  I'm going to work on them a bit more during the next week, look for the tips she used and try my hand at making icing…
These are the tips that I used.
I tried an open star Wilton 1M and a closed star Wilton 2D when I made the Rose Swirl and I used an Ateco 16 open star for the Rosettes pictured below.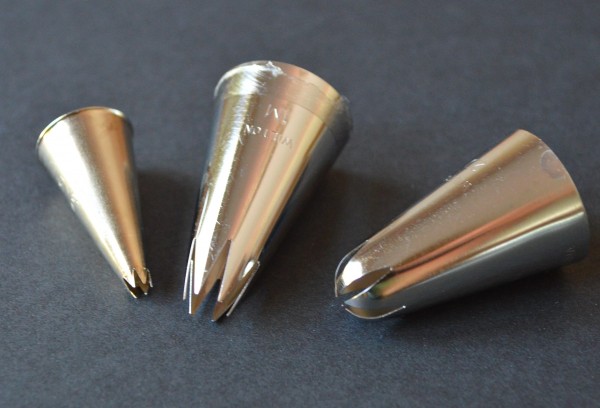 Here's my attempt at the Rosettes style cupcake.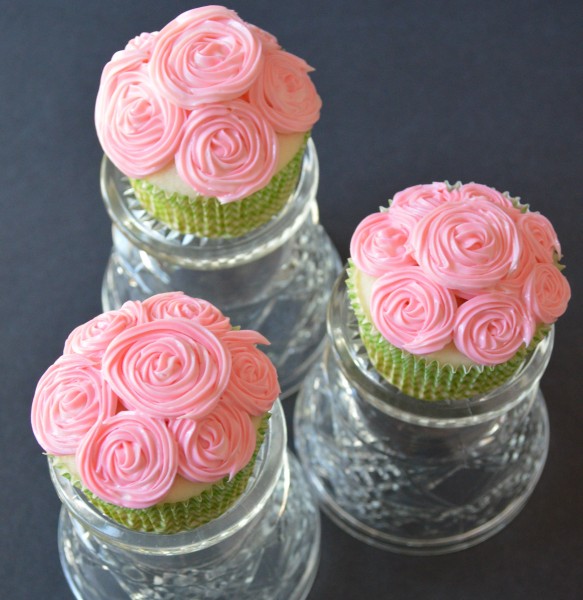 If you've ever wanted to make a beautiful rose cupcake for your little Belle, stop by Simply Sweets by honeybee!  She'll teach you in matter of minutes!  I'm sure glad that I did.  Below it the link to take you directly to her post that includes the video tutorial.
http://www.simplysweetsbyhoneybee.com/2012/05/mothers-day-cupcakes-video-tutorial-2.html
Now back to the Belle party planning I go!  Have a great day!