Although I received Qramz Charms from a friend, this is considered a sponsored post. I did not pay for the items. My review of the product comes directly from my experience and my children's experiences using and playing with Qramz Charms and Bands!
It's not a common occurrence that I blog about an item that isn't directly related to Disney.  However, a friend of mine created Qramz Charms and sent my children a few charms and bands in the mail. I have to say they loved their new charms!  I thought Qramz Charms were a pretty cool concept and I can imagine them hanging on in a ton of places.  Honestly, I immediately thought, "awesome stocking stuffer idea" and wanted to let you all know about them.
Qramz Charms open by squeezing the top and bottom of the charm together.  After the squeeze, attach! This is Gavin, my seven-year-old son's little fingers squeezing the Smiley bead.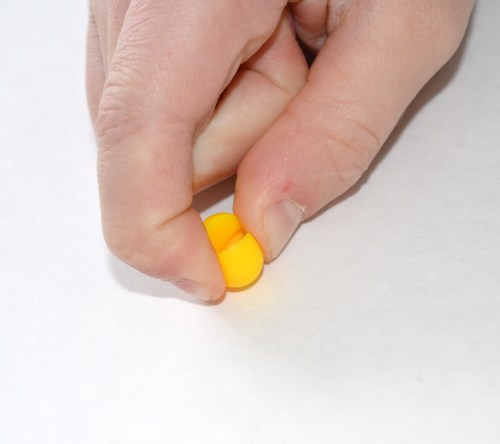 Since we received a Rainbow Bands 6-pack, the kids started by putting the charms on the bands first. Both Victoria (3 years old) and Gavin (7 years old) loved Qramz Charms with the bracelets.  Although the bands are adorable and little ones would love them, Qramz Bands and Charms are NOT recommended for children under the age of three, as the beads are a choking hazard.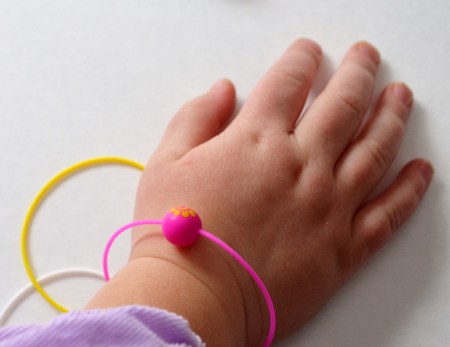 The charms were really easy for Gavin to put on the bracelets.  The nice brother that he is, Gavin, put together a band and charm for his sister. I thought Victoria would have chosen the "skull with bow"…it reminded me of Pirates! She went all pink and chose the pink bead with pink flower.
Then the creative part started. Gavin tried to attach them to everything.
The charms worked on cords really well ~ think headphone cords.  Gavin tried them on his shoelace but we didn't like the way they fit.  The charm looked great, but didn't feel as secure as son a band or cord. Gavin didn't want to chance loosing this cute little owl.

He wanted so badly to put them on his bike spokes that we trudged through the snow and into the shed to pull out his bike.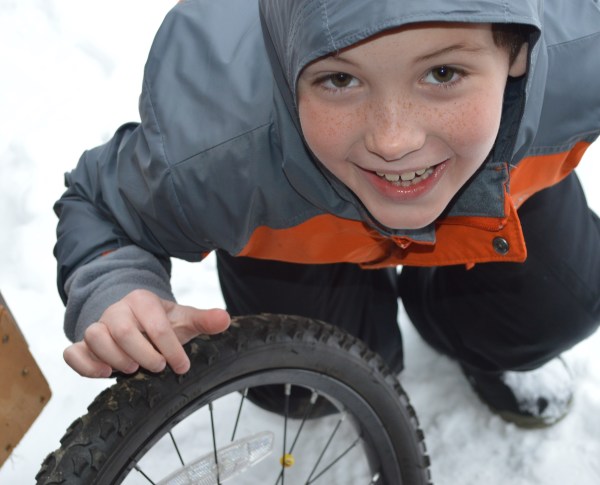 He was so excited that these little guys fit perfectly. Now all we have to do is wait for spring…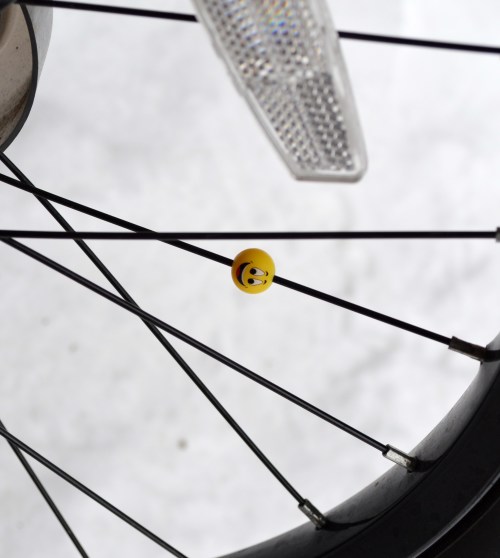 If you have a bike arriving under the tree this year that will need a bit of personalizing or a set of headphones for a Princess ready to show her style, check out the different kind of Qramz charms are available on their website.
http://qramz.com/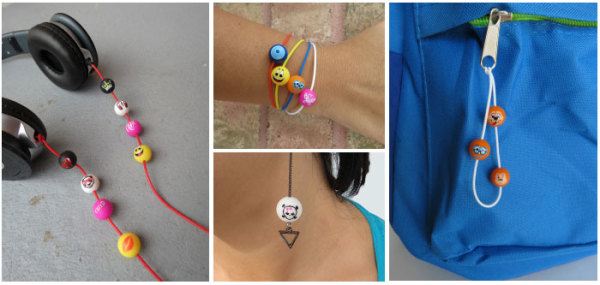 It's Cyber Monday, so I won't take a moment more of your time.  Get shopping and we'll be back to talking Disney on Wednesday.