One of my favorite things about Disney Blogging is meeting many other people with the same passion for Disney.
For example, one fantastic site that I came across is www.loveourdisney.com .  I've learned from reading Becca's blog, that she LOVES Disneyland and has fantastic tips for saving money to get there! I instantly became a follower of her blog so I could start preparing for my family's 2014 trip to Disneyland.  Love Our Disney also has some super cute Disney Inspired craft ideas too.  One of her ideas I decided to make with my son.  It was a simple and quick craft to do with a six-year-old, so he was completely focused.  In addition, he's now extremely excited to do tasks around the house…for Disney "Savings" of course.
Today I'd like to share with you Love Our Disney's Craft Idea: Disney Chore Bucket.  Just click on the link below.  It will take you straight to the tutorial including "how to" photos.
http://www.loveourdisney.com/2012/07/craft-time-disney-chore-bucket.html
Of course, after your little Mousketeer has saved his millions, he'll need a place to keep it.  If you've already made him a Personalized Souvenir Savings Suitcase, then he's set.  If not, you might want to check out this tutorial, which I posted last Friday.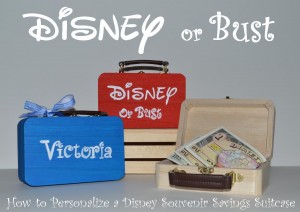 http://www.mouseearsmom.com/2013/09/13/how-to-personalize-a-disney-souvenir-saving-suitcase/
We are currently half way through our 3 weeks of Disney Vacation Planning Tips, Crafts, and Pre Vacation Parties.  Have you noticed that I'm saving the party ideas for next week? You have to be prepared for the vacation before the partying starts.
Here's the scheduled line up for the next week and a half:  Tips to help your little one prepare for his first plane flight, some insight at my first hand experience with Disney's Magic Bands' test phase and pre-vacation party time week!
Hope everyone is enjoying these weeks as much as I am!