Can you believe November is here?
Although I feel at home when at Walt Disney World, I actually live in Pennsylvania.  Here the beginning of the month offers the lovely smell of fallen leaves crunching beneath your feet and breathtaking views of landscapes purely saturated in deep hues of orange, brown and yellow.  For how much I love being at Disney, this is a time in Pennsylvania that I enjoy the beauty of my home state and can truly reflect on how blessed my family is to live the life we have been given.  One thing that I'm extremely grateful for is that each year my family is able to go on a Walt Disney World vacation with my parents, my brothers and their wonderful families.  This year we had two additional princesses join our family, so this Disney-loving group has grown to 13 Mousketeers!
As with many families, my brothers did not grow up and purchase a home in the same town that they grew up in.  Our yearly vacation to Disney is a way for us to bond again and to have our children develop friendships.  To put it simply, vacationing at Walt Disney World with family is a lot of fun.  With a little bit of planning before the trip,  your entire family can leave Florida with memories that can be treasured for generations.  Today I'd like to share with you five things that I have learned over the last ten years of participating in the planning of our Walt Disney World family gatherings.
1. Book the same flight or flight times.  Obviously if you live in different states, booking the same flight is impossible.  However, if you can coordinate arriving in Florida at approximately the same time, you minimize the amount of time you'll lose waiting for others to "catch up".  On a side note, it's a good idea to plan this day as a "free" unstructured day.  Don't schedule any big events or special meals.  This way, if flights are delayed, no one misses out on anything tagged as important.
2. There are Pros and Cons to having the entire party stay in the same resort. If your group wants to experience the parks together for the duration of each day, book the same resort. If you, your husband and your kids have a favorite resort or value some quiet time on your own, by all means book your "Home away from Home" even if it's at a different resort than the rest of the gang.  The down side of this is you'll miss out on some of the fun of having the rest of your group next door. Splashing in the pool is always more fun with more family around!  Another negative aspect of booking a different resort is that you will almost NEVER arrive at the park at the same time as the rest of the group.
3.  Plan your park days before leaving home.  This will minimize a bunch of stress if your entire group is on the same page before you even leave home.  You don't have to plan each day down to the minute, as that will drive everyone crazy.  Simply decide which days you will all visit the parks together and which parks you will visit on those days.
4. Book special meal times together.  Some families start their day early and also go to bed early.  Some families like to sleep in and are night owls.  Your family gathering is for everyone to enjoy, so "go with the flow" as long as you're all headed in the same direction.  Before you leave home, discuss with everyone what dining experiences they would like to complete on vacation.  For example, my siblings and I have enjoyed booking Chef Mickey's for breakfast one morning with our kids.  We all have small children with crazy schedules.  Eating at Chef Mickey's is a special treat for us that creates funny little memories and also forces us on that day to be exactly in the same spot at the same time.
5. Set Expectations.  This is the most important tip I can give you.  Discuss what you want to achieve on this vacation.  Is it time spent with family?  Is it seeing every parade on property?  Is it lounging at the pool and reading a book?  It's important to know what each family wants out of their vacation and then set expectations that are reasonable.  For example, it's very unlikely that a party of 13 will be able to experience all of the Magic Kingdom Park in one day.  A party of 13 moves a lot slower than a family of four.  There will be numerous potty breaks if you have small children and almost everyone seems to get hungry at a different time.
I'm a planner. My kids and husband expect for me to tell them what our outline of the day looks like each and every morning.  They're comfortable with this.  My youngest brother and wife are very laid back and would prefer to see where the day takes them.  What works for our family gathering is a very loose schedule.  We don't plan on seeing everything together, but we schedule what is most important to us.  This way no one feels left out and we leave our vacation with the special memories of the times that we did spend together…no matter how silly!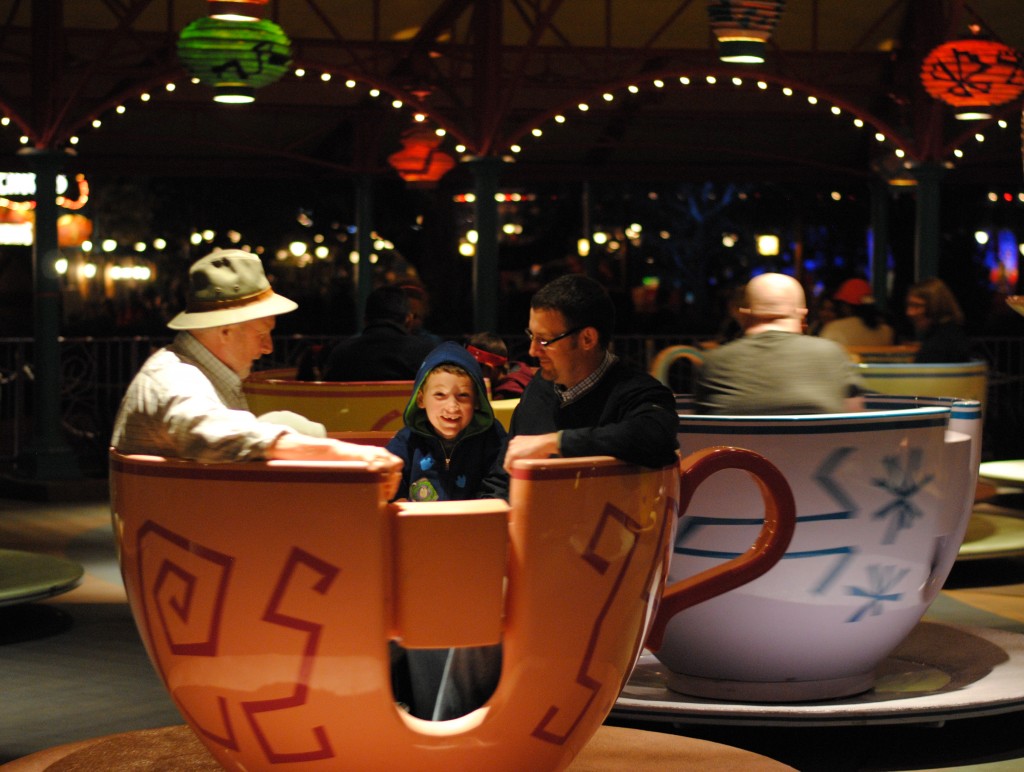 If you haven't experienced a Walt Disney World Resort family gathering, why not?  Believe me, you won't forget it.
It's a magical time where Papas spin in tea cups, aunts climb mountains with nephews and Daddies fly on elephants.  And for that, I am truly Thankful.