During this time of Thanksgiving, I give thanks for friendship!
Disney films teach our children the value of friendship and how important it is in life to be a good friend.  I believe some of the best examples can be found tucked within the relationships in the Hundred Acre Wood.  That "Silly Old Bear", debuted on this 6th day of November back in 1924 in a poem titled "Teddy Bear" by A.A. Milne.
In honor of Winnie the Pooh and friendship, today I'd like to introduce you to a Disney friend that I made when I happened upon her blog post, Teen Pooh Bear Party.  Her name is Alexis and she is the author of the blog Jac O' lyn Murphy.  Alexis is so incredibly talented and reading one of her blog posts is like Pooh having "a smackerel of honey", just one smackerel isn't enough!
At Jac O' lyn Murphy's adorable movie viewing party of The Many Adventures of Winnie the Pooh,  Alexis provided yummy honey treats for her teen daughter and her friends to enjoy.  Don't they look so yummy?  Alexis provides a step by step tutorial on how to make them, complete with beautiful pictures!
Below is a photo of the girl's party favors.  Don't you just wish you were invited?  No worries, on her blog Alexis gives you the tutorial, again complete with photos, on how to make the deep conditioner.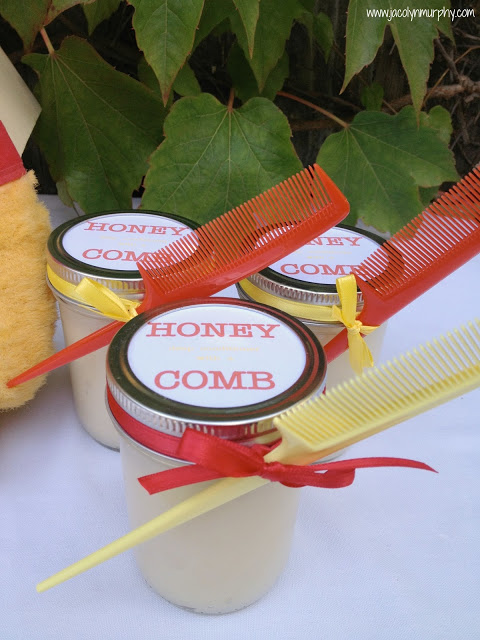 Click on the link below to visit Jac o' lyn Murphy's blog for her tutorial on how to make the Honeycomb treats and the Honey deep hair conditioner with a Comb.
Click here: http://www.jacolynmurphy.com/2013/08/even-big-girls-love-winnie-pooh-our.html
Thank you for stopping by the blog today.  I'm truly thankful for all my Disney friends!  And to that silly old bear, "Happy Birthday Pooh!"