A Minnie Heart That's Oversized With Sweetness
Last week I shared with you an inexpensive and simple Valentine Mickey and Minnie Mouse magnet project for you to make with your little Mouseketeers.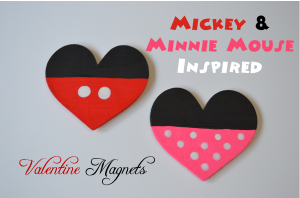 http://www.mouseearsmom.com/2014/01/16/inexpensive-and-simple-valentines-day-craft-for-children/
Last night I decided to turn the magnets' designs into chocolate covered sugar cookies. My two-year old daughter, Victoria, loves Minnie Mouse and  I thought this Minnie Mouse Inspired heart-shaped cookie would be a cute Valentine to hand out.  I'll attach a little note saying, "My Minnie Heart Is Sweet for You!"
The cookies were easy to make, but because of drying time, expect to spend a little extra time to complete the steps.   If you'd like to make them too, here are the supplies that you'll need:
Heart shaped sugar cookies
Red chocolate
Bright White chocolate (for Minnie Mouse's polka dots)
White M & M candies (for Mickey Mouse's buttons)
Dark chocolate.  I found Chocolate Cherry Cordial Candy Melts from Wilton at our local craft store- YUM!
Once you've made your sugar cookie hearts, melt your red chocolate in a shallow pan that's big enough to allow you to lay a cookie down flat in the pan.
 Lay each heart, one at a time, in the red melted chocolate.  Using your fingers, gently pick the cookie up and shake the excess red chocolate off of the heart.  Then lay it on wax paper.  To make a Mickey heart, take two M&Ms and place them on the bottom of the heart before it starts to dry.
After the red chocolate has solidified, melt the dark chocolate in a small container that is deep enough to submerge the top of the hearts.
Dip the tops of each heart in the dark chocolate.  Now the Mickey hearts are done!
To complete Minnie's look –  melt a small amount of white chocolate in a decorator bag.  I like to use Wilton's disposable bags.  Once melted, snip the very tip of the bag off, making a small hole in the bottom.  It's important that you don't cut off too much of the bag or it will allow too much chocolate to pour out at once.
Last but not least, pipe Minnie's white polka dots onto the bottom of the remaining cookies.  Done!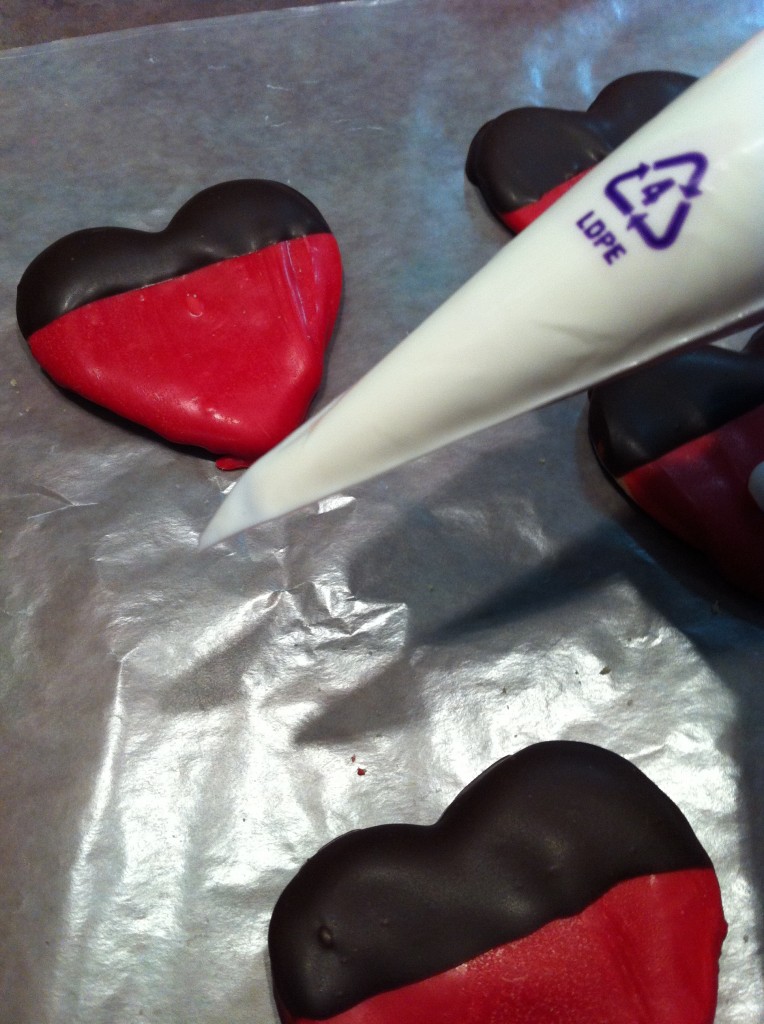 Are you ready for Valentine's Day?  I'm working on it, but I still don't know what to have Gavin hand out!  He couldn't care less about Valentine's Day, telling me to "Just pick something out Mommy".  I'm wondering if it is being six years old and a boy that's has Valentine's Day on the bottom of his favorite holiday list.  Oh well, at least my little Minnie Mouse fan is excited!
Are you making anything special for your kids to hand out to their classmates?  I'd love to hear about it!  Have a great Sunday everyone!