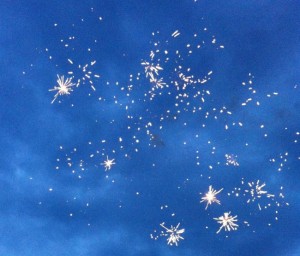 Have You Ever Wished…
Have you ever wished that after the grand firework finale ended you and your family had been magically transported to a land where crowds were no more?  Well, if you've been to The Walt Disney World Resort before, that thought just may have gone through your mind once…or twice.  Vacationing at "Disney" is a lot of fun and playing hard is work.  By the end of the day most families are exhausted.  Depending on when you visit the Walt Disney World Resort, it may be very crowded too.  There are a few ways for you and your family to see the exceptional fireworks without having to stand amongst a large crowd and then leisurely head to your resort.  Below I have listed three ways that I have been able to experience fireworks on Disney property crowd free.
Plan an evening at The Contemporary Resort. It's proximity to the Magic Kingdom makes it a perfect viewing location for Magic Kingdom's fireworks show, Wishes.  The soundtrack from Wishes is broadcasted through speakers outside on the deck of the fourth floor, called the concourse.  The Contemporary Resort has several shops located on the concourse level,  as well as, a great view of the monorail.  There are three table service restaurants to choose from located on different floors of the main building.  I highly recommend Chef Mickey's for any family with children. This restaurant offers a buffet style dining of extremely yummy food for you to eat while Mickey and his friends take their turns visiting with you and your family at your table .  Be prepared with your cameras and autograph books!  For a romantic evening Mom and Dad, try the California Grill.  The fireworks can be viewed from the balcony outside the restaurant.  Make sure you make Advanced Dining Reservations for either of these restaurants months before you leave for vacation, as the time slots fill fast.  Please note, if you do not have reservations at The Contemporary Resort you will not be allowed to park there.

Plan an evening at Disney's Boardwalk Resort.  The "Boardwalk" is a perfect place to dine at ESPN Club, pick up a slice of pizza to go at the Pizza window or maybe snack on some sweets at the Boardwalk Bakery.  My husband and I love the food at Big River Grille and Brewing Works and also the music at Jellyrolls.  After eating, enjoy the evening entertainment and take a stroll to the bridge that leads you from the Boardwalk to The Yacht and Beach Club.  This bridge is a spectacular viewing location for Epcot's Illuminations.  Once again, to park at this location you must be planning on spending your evening at The Boardwalk.

Plan a very special evening on a Firework Cruise.  Disney offers several Firework cruises, from the Pirates and Pals Fireworks Voyage to Celebration Cruises, all varying in cost.  These cruises are custom designed to let you and your family enjoy the magic of the Magic Kingdom's fireworks or Epcot's fireworks in the comfort of your own cruise boat.  There is even the option to have the music piped into your cruise boat.  Please see the link below to take you straight to Disney's site to learn more about this magical Disney offering.
https://disneyworld.disney.go.com/recreation/specialty-cruises/
I hope you and your family enjoyed this 4th of July holiday!