A Minnie Touch of Fall for a Mini Book Corner
September is here!  It's time to decorate for Fall!   My son, Gavin, inherited my love of decorating and enjoys decorating his room for the different seasons.  He's collected quite a variety of seasonal decorations over his six big years!  This year my daughter, Victoria, is two and just like her brother, she's discovered how exciting it is to place fun things around her room.  Looking through our fall storage bins, we soon realized that her only Fall decoration is a little Minnie Mouse Halloween Bean Bag Plush that her grandparents purchased for her last year at Walt Disney World.  This simply would not do!  Time to get crafty!
Victoria's room has an adorable, yet décor challenging, little reading nook that was created by the slanted walls of our Cap Cod style home.  Using her Minnie Mouse plush as inspiration, I created a mini wreath to give her room a dainty touch of fall.  It was simple to make and a cute addition to her little reading nook.
Do you have a little girl's room or a special little corner that you'd like to decorate with a pinch of fall, Disney Inspired?
 Here are the directions on how to make this Fall Minnie Mouse Mini Wreath:
 Gather all your supplies: One (1)  6 inch Grapevine Wreath, Two (2) Mini Grapevine Wreaths, Floral Stem Wire, Eight (8) Fall Mini Flowers, Glue Gun w/ glue sticks, 3/8 inch ribbon, 1 inch ribbon.

Using the floral stem wire, connect the two mini wreaths to the 6 inch wreath.

Separate the flowers from their stems and using a glue gun, attach the flowers to the 6 inch wreath.

Using the one inch ribbon and 3/8 inch ribbon, make a bow and super glue it onto Minnie's ear.
Last, cut about 12 inches of  3/8 inch ribbon and loop the ribbon around the 6 inch wreath and tie in a knot.  Using the ends of the ribbon, knot it again to create your loop to hang the finished wreath.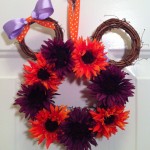 The Fall season is one of my favorite seasons to decorate.  The deep rich hues of purple, gold, and amber bring such warmth into a home.  Have you started to decorate for Fall in your home yet?  If so, is it Disney Inspired?
I'd love for you to share your Disney Inspired Fall Décor ideas!