Are you wondering what the Disney Infinity game is all about?
I was.  My six-year-old son Gavin REALLY wants this game from Santa.  My husband and I don't play video games and therefore had no idea what to think when he asked for it for Christmas.  Before deciding on whether or not Santa would bring this new game, I visited by my good friend, Art, at his home for an overview of the game and some trust worthy feed back.  Art has two elementary age children and has had the game since its first day of availability.  I knew he'd be the perfect person to share the good, bad and surprising things about the game and how it relates to young children.  After spending about an hour watching him play, asking him questions and talking with his children, I left his home with a better understanding of the game, how it works and the knowledge to decide if it is appropriate for my son to get Disney Infinity from Santa.  Today I'd love to help you get to know the game a little, so you could decide if you're adding Disney Infinity to your Christmas shopping list.
Basic Disney Infinity Information
If you've opened any toy sales flyer or entered into any video game store, you've probably seen the really cool Disney Infinity figurines.  There's currently 23 figurines available today, with an additional six figurines planned to be released by the end of this year.  I can honestly say that as soon as I saw the figurines I was intrigued by the game.  Seeing them out of the box, they're even better- great construction and spot on with the character representation.
As for the gaming side of the figurines, here's the scoop.  There are two different ways to play Disney Infinity and they are referred to as the "Play Set Mode" and the "Toy Box Mode".  The "Play Set Mode" is the official name for the characters playing a game in their own world.  For example, Sulley plays in a game that takes plays on the Monster's University campus.  The "Toy Box Mode" is the where players can customize their own game and play with any of the Disney Infinity figurines in the same game.  For example, Captain Jack Sparrow and Mr. Incredible can play together in a world that your child creates.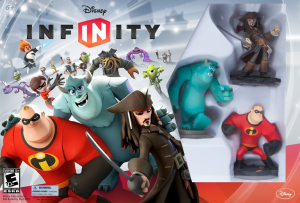 This photo is of the Disney Infinity starter pack.  The starter pack is what you'd purchase if you chose to  buy the game and it retails for approximately $75 US.  It includes three characters (Sulley, Jack Sparrow and Mr. Incredible), their three different worlds disc and also the Infinity Base.  Now before you look at all the other cool character figures (priced separately at approximately $12.99 each) and start to buy your favorites, there's something key that you should know.  Each character belongs in their own world when your playing in "Play Set Mode".  To unlock each world you have to purchase the world's play set that includes the world disc.  Here's an example, to play with the Mater figure you will need to use the world disc that is included in the Lighting McQueen and Holley Cars Play Set.  Once you have the world disc you can play with Mater within the Cars world.  Since the starter pack comes with a three world disc you can play within the Monsters world, the Pirates world and the Incredibles world and therefore any of the figurines from their respective movies will work within those worlds.
Mouse Ears Mom's Thoughts
The game states clearly on the box that its intended for children 10 years old and above.  To some degree I agree with the rating.  Creating in "Toy Box Mode" I believe would be extremely hard for my six-year-old son.  In actuality, it would be hard for me to build my own game and I'm 36 years old!  The concept is super cool and after some serious time spent learning I'm sure a 10-year-old would have a lot of fun designing and playing their own game.  For anyone with an older child, I'd encourage you to purchase this game for that "mode"  alone.  It's a fantastic way for children to be creative.
In addition to the "Toy Box Mode" complexity,  there are several worlds in the "Play Set Mode"  that I wouldn't allow my son to play at six years old.  I don't feel as if the Incredibles, Pirates or Lone Ranger worlds are appropriate due to cartoon violence using guns and swords.  Granted, I may be a bit more restrictive than most parents, but I feel you should be aware of it before you purchase the game for little ones under the age of 10.  On a positive note, I give Disney credit that there is no blood or gore in the game, as characters simply fall apart and disappear.
Although I've told you a few reasons why this game isn't appropriate for a six-year-old, here's why I'm going to give Santa a thumbs up for Disney Infinity.  Playing the game in "Play Set Mode" within the Monsters, Cars and Toy Story worlds will be a lot of fun for my son and will be a challenge that he can work to complete.  In addition, the "Toy Box Mode" is beyond measurable in terms of creativity.  I know that he'll be able to grow with this game and expect before he's ten he'll be capable of creating in the "Toy Box Mode".  Most importantly the game is interesting to everyone in our family.  We'll play it together during this long winter we're entering.  I think Santa's going to have to bring Mommy or Daddy a controller this Christmas!
Are you ready for Black Friday?  I've read that Disney Infinity will be selling for roughly half the suggested retail price.  Keep your eyes open for sales flyers!