"Good Bye Diapers!  Hello Pull-Ups!"
It's potty training time for my little two and a half year old.  Honestly, it's been challenging.  If you're a mom or dad who's lived to tell the tale, you know it's a battle.  Luckily for me I have been given a bit of a secret weapon…Disney didn't provide me with a sword, shield or the preferable, magic wand; however, Pull-Ups and Disney did provide me with the help of Princess Ariel, Minnie Mouse and an adorable Sulley.
In exchange for this post and hosting a "Good Bye Diapers, Hello Pull-Ups Party", I received Huggies Pull-Ups to provide to my guests, coupons and a Disney Princess Magical Sounds Potty System for my little Princess.  As with all my posts, my comments and "review" of the items are purely my opinions.
Party Time!
I have an older child, Gavin.  He's 6 years old and I'm happy to report that his potty training days were overall pretty easy.  He wasn't ready until almost 3 years old, but once he told me he was ready, that was it.  He was done with diapers.  He didn't use Pull-Ups and Gavin never had an accident.  Since he never used them, I didn't purchase any for Victoria either.  Victoria's 2 and a half now and she's showed interest in potty training so I've felt she was ready to try.  Well we've been "trying" for about a month now, without much success.  When I received an email asking if I'd host this party, I thought we'd give Pull-Ups a try.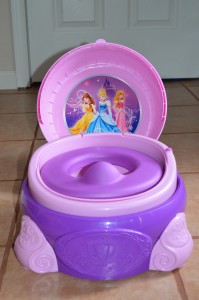 A few days before the party our supplies arrived from House Party and Huggies.  When Victoria and I opened our box,  we were surprised to find a Disney Princess Magical Sounds Potty System.  As soon as Victoria saw it, she wanted to use it.  The next morning we took the potty out of the box and she had five successful potty times!  Success and the party hadn't even started!  I give this potty two thumbs up.  Cleaning is simple and I love that it doubles as a step stool.
In addition to the potty, we were given a bunch of things to assist us and our guests on our magical potty training journey.  Of course I didn't wait to until the party to start using them.  I had to test Huggies tips out and see if they worked.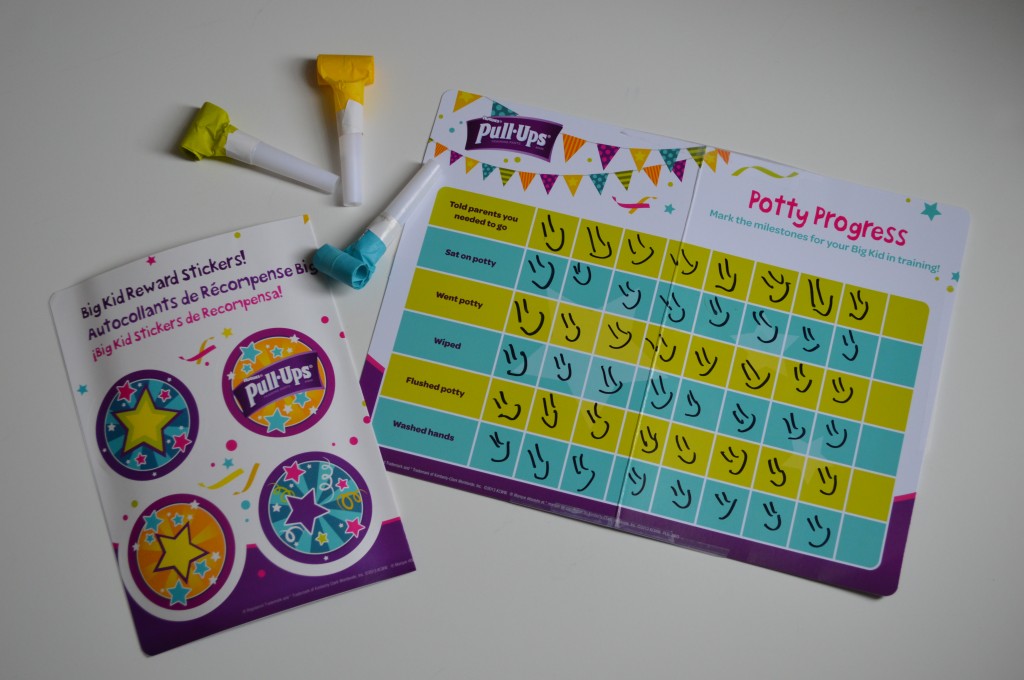 Each of our guests received, what I like to call, a celebration package. It included a potty progress chart, Big Kid reward stickers and three party horns.  After Victoria had her first successful potty session I pulled out this package, used the chart, gave her a sticker and she and I went full-on party with those horns.  It worked!  She LOVED it.  Like I said, five successes on the first day!  With this experience under our belt, we were ready to host our party!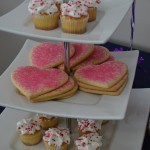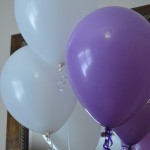 The kids and I, took a trip to Wegmans grocery store and picked out some balloons and of course, the potty-training princess's favorite treats, sugar cookies.
 Our Guests Arrive!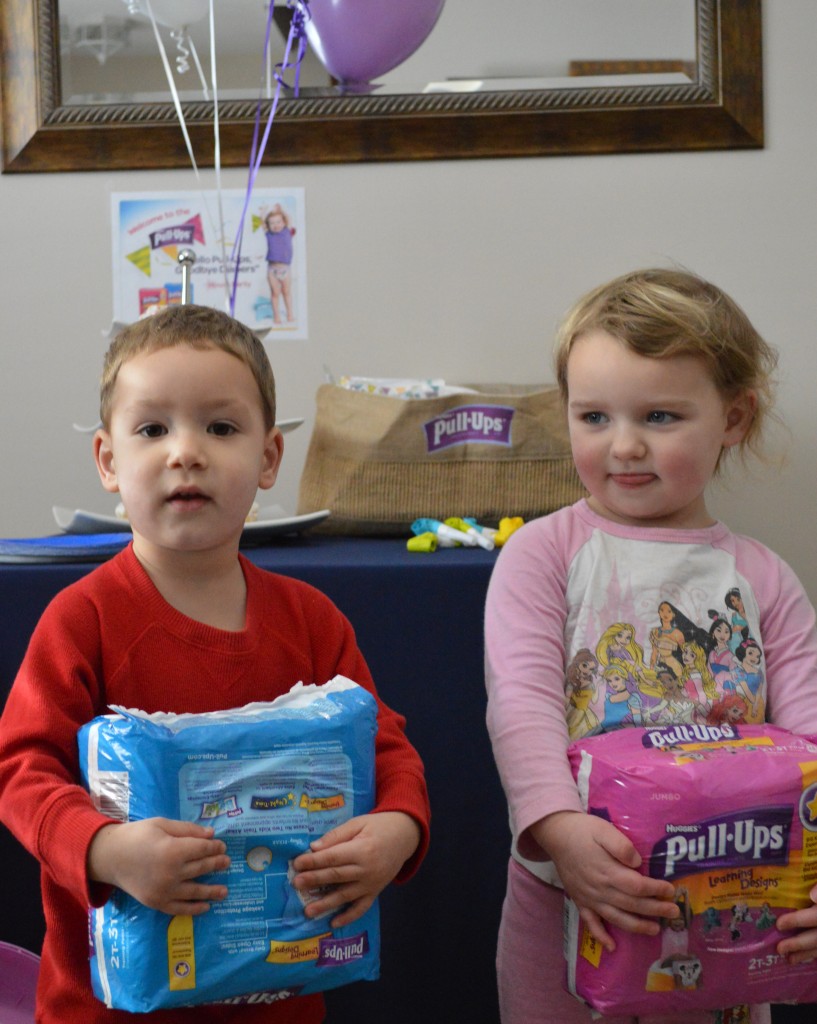 Derek was the only little prince that attended our party, so he received an entire Pull-Ups package to get him started on his way.  He was happy to open them up and show us how they work.  What a Big Kid now!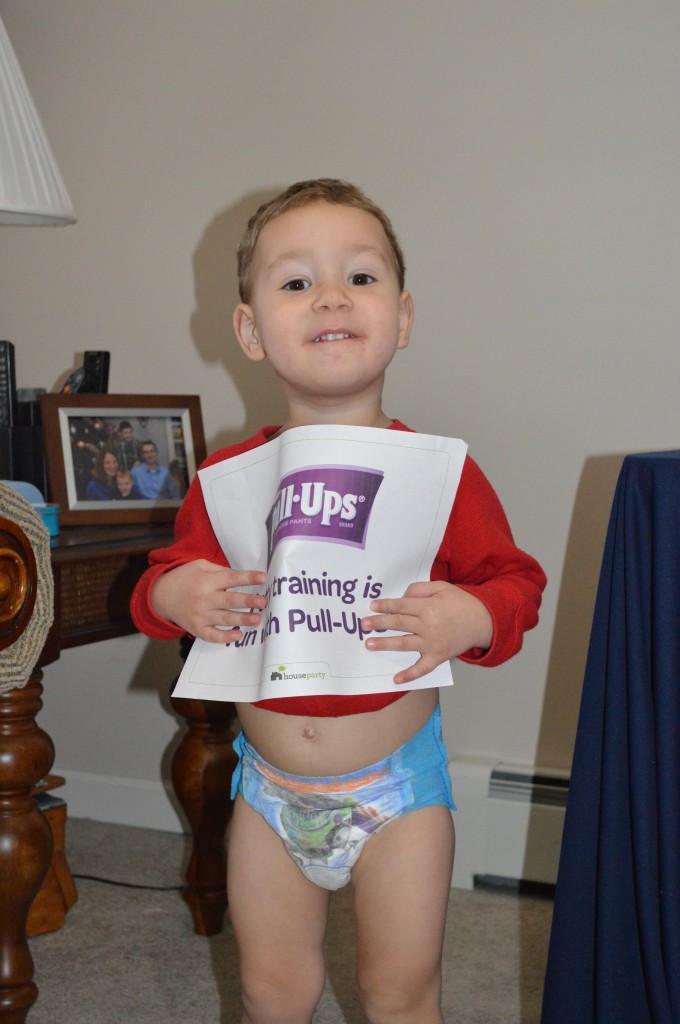 The kids loved the Disney characters on the Pull-Ups.  For the boys, the Pull-Ups feature Buzz Lightyear and Lighting McQueen.  For the girls, Minnie Mouse, Ariel and Monster University characters, Mike and Sulley grace the outside of the Pull-Ups.  Of course, Victoria only wanted to wear one because of Minnie Mouse and Princess Ariel.
The party was a success. Moms swapped potty training stories and ideas.  The kids had fun while playing, making party hats and being introduced to Huggies great Pull-Up product.  For my niece, Gwynn, it was her first interaction with a training potty.  A couple more months and she'll be ready to go!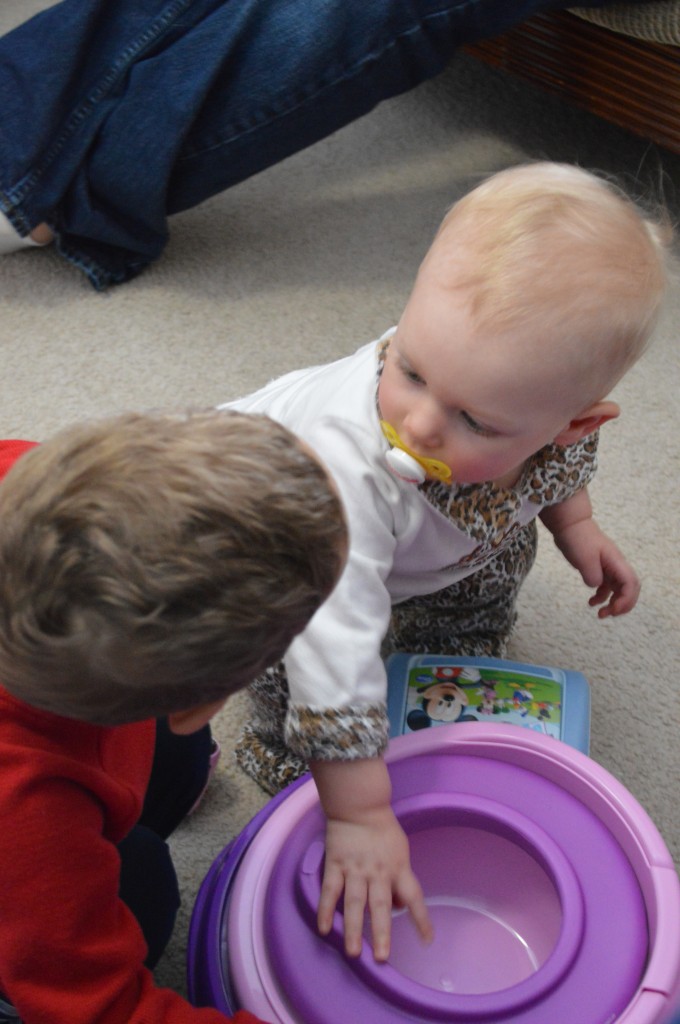 Thank you Pull-Ups and Host Party!  We're on our way to being Potty Trained!