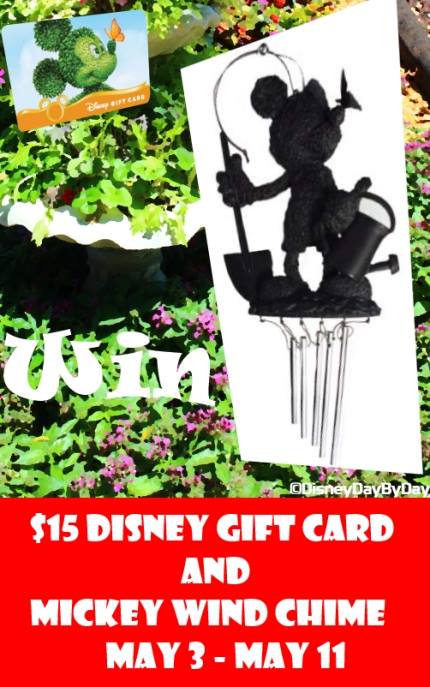 Don't you just love Spring?  In many parts of The United States, it's finally time to start enjoying the outdoors without snow gear.  I joke that Elsa blanketed the ground with snow for  six months, but at times it truly felt like that!  Now that spring has finally arrived, I love to watch the blooms open on my Saucer Magnolia tree and enjoy seeing the brown grass turn to green.  It's simply magic!  The only thing that I can think of that could make it any more magical is a Mickey Mouse Wind Chime bringing a touch of Disney pixie-dusted music to the air…and a $15 Disney Gift Card is a nice bonus too!
Sean, author of the Disney Day By Day blog, is hosting this great giveaway and is offering all Mouse Ears Mom Facebook fans an easy entry by using the Rafflecopter link below.
Here are the full details of the giveaway:
The giveaway will run from Saturday, May 3, 2014 until May 11, 2014 at 11:59 PM EST.
There is a daily entry for more chances to win.
The winner will be chosen by Rafflecopter after verification of entries and notified by email.
To officially accept the prize the winner must reply by email within 24 hours. Make sure that you provide an email address that you check regularly.
The giveaway is open to United States residents only, ages 18 yrs old and up.
The lucky winner will be announced on the Disney Day By Day blog and also on the Mouse Ears Mom Facebook page, after the winner has accepted their prize.
If you love The Walt Disney World Resort, you'll love Sean's blog, Disney Day by Day!  If you'd like to check it out, here's the link to take you to the Disney Day by Day homepage.
 http://disneydaybyday.com/
Have a Magical Day!